Follow State and Federal Guidance
As New York State and the rest of the country inch their way towards a safe return to work and reopening business, these tips can be a useful tool as your business makes its plans.
Complete a Workplace Risk Assessment
What jobs and activities could put your employees at risk (office, field, plant, travel, etc.)
How can workers be protected from exposure from co-workers, customers, vendors, and the general public
Are there physical or engineering controls that can reduce the risk of exposure, (i.e., barriers, ventilation)
Are your workers provided with adequate personal protective equipment
Are you workers trained in how to reduced risk
How do you ensure employees are complying with your requirements

Is it more cost effective to have your employees work remotely
Develop a Workplace Safety Plan
Screening - Conduct employee health screening and monitoring that may include temperature checks and health screening questionnaires
Social Distancing - Institute social distancing controls that may include restrictions on group meetings, staggering lunch and break times, re-arranging furniture and chairs so there is at least 6' of separation for all workers, only allow one person per vehicle, use phone calls instead of face-to-face meetings, provide one-way entrances and exits.

Sanitation - Institute enhanced sanitation for High touch surfaces such as door handles, restrooms, lunchroom, reception, copiers / printers, Vending, Coffee machine
Handwashing – Provide additional hand washing and/or sanitation stations at entrances, restroom,

elevators, lobbies, breakrooms, or any other high traffic area

Personal Protective Equipment – Require employees & customers to wear appropriate PPE such as masks and gloves.

Train employees on proper use, limitations, storage, and disposal.

Follow OSHA training and inspection requirements.

Workplace Density: Adjust workplace hours and shift design as necessary to reduce or stagger headcount, allowing for proper social distancing

Business Travel – Define acceptable and unacceptable business travel.

Only allow one person per vehicle.

Describe circumstances where employees are and are not allowed to the fly, take public transportation, drive company vehicles, etc.
Business meetings – describe acceptable meetings with clients, vendors, prospects, co-workers, and the general public
Visitor Policy – establish a visitor policy for clients, customers, vendors, contractors, friends and family, etc.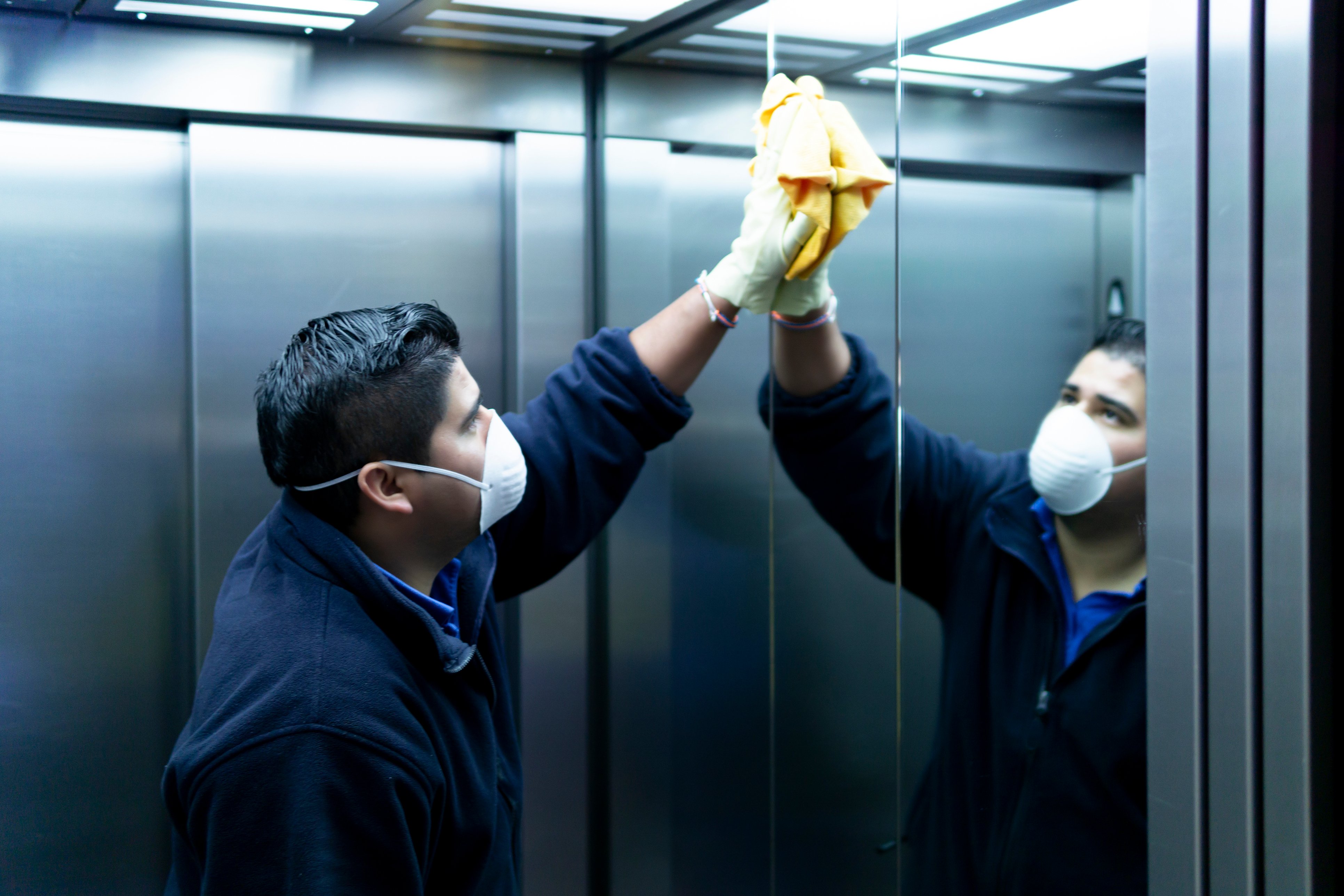 Establish an Infection Plan
What course of action will you take if an employee:

Exhibits symptoms without a positive test
Employee tests positive
Employee with symptoms in close contact with someone who tests positive such as a Co-worker, customer, vendor, Friend/family/other
Employee shows no symptoms, but was in close contact with someone who tests positive such as a Co-worker, customer, vendor, Friend/family/other

When and how an employee can a return to work
Communications with co-workers
Review and Update your Human Resources Policy
What is your leave policy around Covid-19
Will workers get paid or have to use their PTO if they get Covid-19 or are quarantined
When and how can employee return to work
Will employees be allowed to work from home and how will you manage their attendance and productivity
Are you in compliance with emergency leave laws such as EFMLA
What if employees who don't want to come back to the work environment and only want to work remotely
Communicate with Your Employees
Assigned a point of contact
Communicate regularly (i.e., weekly) with your employees on your return to work plans
Train employees on their roles and responsibilities

Provide workplace signage such as Covid-19 Signs and Symptoms; handwashing guidelines, and social distancing
Provide employee a way to give feedback and suggestions
Document Return to Work and Employee Protection Activities
Formalized steps and practices to ensure employee safety
Employee communications
Employee training
Employee feedback
Inspection and compliance activities
At Haylor, Freyer & Coon, we believe it is always best to get your information from trusted sources. The links below will connect you with several of those sites.
For more information about this and other loss control/safety topics contact us